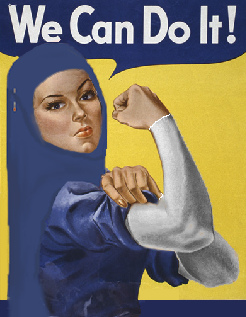 (muslimahwalkingaround.wordpress.com)
I was meaning to write this post a long time ago but I just didn't get down to doing it. As I devour my slice of pizza and sip a glass a ice cold coke I am now eager to fire away. A few months ago I was invited to a family gathering where I met members of the extended family and of course g
uests that I was not familiar with. Whilst introducing myself I was asked where am I from, am I married and of course whats my profession. As the conversation continued I made mention that I was abroad for a number of years and I returned to my home country to be a part of a new family business, Medix Pharmacy. There was a few women in the gathering who happened to be from a staunch ultra conservative background, but take note that when these women were young, they had their own businesses, wore swimming costumes etc etc..Now that God Almighty has guided them they suddenly appear as "the holier than thou" type. As the conversation ensued I was told, that a woman's place is at home. A woman should not be involved in the business world but rather stay at home and rear a dozen kids. Naturally I was boiling inside to retaliate but I simply kept my cool as it was meant to be a get together.

What fascinates me is that when the first verse of the Quran was revealed " read in the name of Thy Lord who created man from a clot of blood".. God Almighty didn't associate gender to the word read. Where did this notion or idea come from that women should not educate themselves, persevere and excel in whatever respectable field makes them happy and gives them a sense of inner satisfaction and accomplishment. Throughout history there has been many noble Muslim women of note that have held positions of power and contributed significantly to society during that era. Let me elaborate further by starting off with Khadija (Peace be upon her), the wife of our beloved Prophet Muhammed (saw). She was a super successful business woman and through her contribution Islam spread far and wide. Umma Ammara, also known as Nusayba Al ansariyya participated in the Battle of Uhud. She carried a sword and a shield and is remembered for protecting the Prophet (saw) against his enemies. "'Ā'isha was the wife of the Prophet Muhammad who had perhaps the most influence on the Muslim community after his death. She played a central role in the political opposition to the third and fourth caliphs Uthmān ibn 'Affān and 'Alī ibn Abī Ṭālib, even leading an army against the latter at Basra in 656. Although she retired from political life after her defeat, she continued to play a major role as a transmitter of Islamic teachings. She is one of the major narrators of hadith in the Sunni tradition. In many ways, she is among the most controversial figures in early Islam, especially since the implications of her actions for women's participation in scholarship, political life, and the public sphere clashed with later conservative conceptions of the role of women. For more about 'Ā'isha and her legacy, read Denise Spellberg's excellent book entitled Politics, Gender and the Islamic Past: The Legacy of 'Ā'isha bint Abī Bakr (1996).Lubna of Cordoba was originally a slave-girl of Spanish origin, Lubna rose to become one of the most important figures in the Umayyad palace in Cordoba. She was the palace secretary of the caliphs 'Abd al-Rahmān III (d. 961) and his son al-Hakam b. 'Abd al-Rahmān (d. 976). She was also a skilled mathematician and presided over the royal library, which consisted of over 500,000 books. According to the famous Andalusi scholar Ibn Bashkuwāl: "She excelled in writing, grammar, and poetry. Her knowledge of mathematics was also immense and she was proficient in other sciences as well. There were none in the Umayyad palace as noble as her." [Ibn Bashkuwal, Kitab al-Silla (Cairo, 2008), Vol. 2: 324]."

"As philanthropists and benefactresses, Muslim women like Queen Zubayda, wife of 9th century Caliph Harun Ar-Rasheed in the Abbasid dynasty, deserves mention because of her huge contributions to public works such as building wells and guest houses on the major routes that pilgrims took to Mecca, as well as building wells and reservoirs. In addition, Queen Zubayda was an intellectual who expressed her political thoughts in public besides supporting poets and writers, regardless of their religion, and religious scholars and the needy. On the Western side of the Muslim Arabic world, 9th century's Fatima al Fihriyya in Fez, Morocco founded al-Qarawwiyyin mosque which became one of the oldest Islamic schools and colleges operating until the present time. Among other women who built schools was Banafshaa' ar-Rumiyya of the 11th century who restored schools, bridges, public housing for homeless women in Baghdad, besides having her own school endowment. Moreover, Fatima of Cordoba was a 10th century librarian who oversaw 70 public libraries containing 400,000 books."

"Finally, as queens and rulers, Muslim famous women that stand out are Arwa al-Sulayhi, an 11th century Yemini who ruled for 71 years and was known as the Noble Lady. Sultana Shajarat al-Durr took control over Egypt after her husband's death in the 13th century. Sultana Razia, on the other hand, was the only female to sit on India's throne in Delhi for four years in the 13th century. In central India and closer to our contemporary world, a family of women rulers ruled over the principality of Bhopal from 1819 to 1924, the last of whom was Begum Kaikhursau Jahan. This family was famous for building railways, water works, and a postal system."

Of course the list continues but with so many Muslim women within the Islamic world making significant contributions to humanity, I fail to understand why has the Islamic world become patriarchal forcing women to take the back seat when that was never how how it suppose to be in the first place. Where did this idea come from that it is the sole responsibility of a woman to iron, cook, clean and raise a dozen children. Why can't a man cook, clean and iron? Shouldn't it be a shared responsibility. The trend seems to be changing though with more and more Muslim women educating themselves and taking up important positions within society. This however comes at a price. In Muslim Indian communities an educated woman is viewed as a threat so naturally you are not considered marriage material. I had a hilarious situation a few days ago where a friend of mine wanted to introduce me to her friends brother. When the gentleman was informed about my qualifications and other media related activities I am involved with, it scared the pants out of the guy and naturally he refused to meet me. I find it fascinating how people judge others based on profession or material wealth. People have this notion that if you driving a fancy car or you living in a huge home that you spoiled. They fail to see the bigger picture and that is the individual themselves. Isn't personality and character more important than wealth and materialistic possessions.. With the world economic situation in dire straits wouldn't it be a pleasure having a partner that also works and assists in running a home. Whilst there are men out there who prevent their educated wives from working out of spite and jealousy, there are also women out there who have this notion that a woman's place is in the home. This kind of woman refuses to work or do anything extra. The poor husband works his butt off whilst the wife abuses and spends money lavishly. Shopping, visiting beauty salons and watching TV from morning to night is how time gets spent without taking into consideration the husbands financial situation. A marriage situation requires two to tango and I fervently believe that both partners need to educate themselves, work hard and build a future together. If two people love each other they should support each other through all of life's trials and tribulations. Why should one partner work hard whilst the other spends it all without showing any sign of appreciation. I hope that the women at the gathering I attended read the above article. I wonder how many of them actually know the history of Muslim women in the Islamic world. The irony of the whole discussion though was when I stood up to leave, I was halted by one lady who asked if I knew a good Muslim female gynaecologist. I simply grinned, shook my head in disbelief and left. I firmly believe that if you educate a woman, you educate a whole nation. Whilst Islam is a forward thinking religion, why have some sectors of the Muslim world gone backward instead of moving forward? Why have Muslim women allowed a patriarchal system to hijack their place and role within the Islamic world?